by Maddie Basil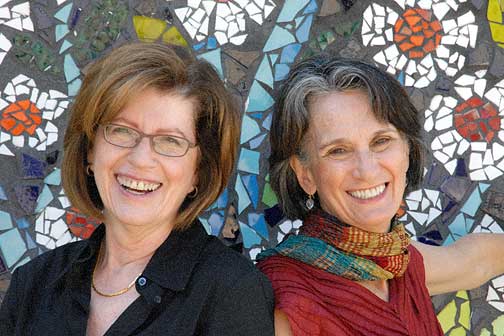 Janet Goldwater remembers a time when she and her longtime filmmaking collaborator, Barbara Attie, were described by a colleague as "workhorses".
"I wasn't sure I loved the analogy at the time," she laughs. "but I came to appreciate what that meant."
And what that meant was that Goldwater and Attie, co-founders of their own Philadelphia-based independent production company, are forces to be reckoned with in the field of documentary. For over twenty years, they have dedicated themselves to various film projects, ranging form BaddDDD Sonia Sanchez, an EMMY-nominated, feature-length portrait of the titular poet and activist to Mrs. Goundo's Daughter, an unflinching look at the journey of a mother and child from Mali fighting for political asylum in the United States.
The studio's most recent release, a 2019 short entitled Abortion Helpline, This is Lisa, centers on a reproductive health fund in Philadelphia. The film depicts the emotional interactions between phone operators (who all use the alias "Lisa" to maintain anonymity) and callers ringing the center in the hopes of securing funding for an abortion. These scenes are woven together with recordings from congressional meetings where legislators debate the Hyde Amendment: a mandate which restricts women on Medicaid from using government insurance to pay for abortions.
"When you look at the archival footage of Representative Henry Hyde explaining why he wants to make abortion unavailable to poor women, you understand that this is structurally built into the system," Goldwater says. "This was designed to deprive the most vulnerable people from access to abortion."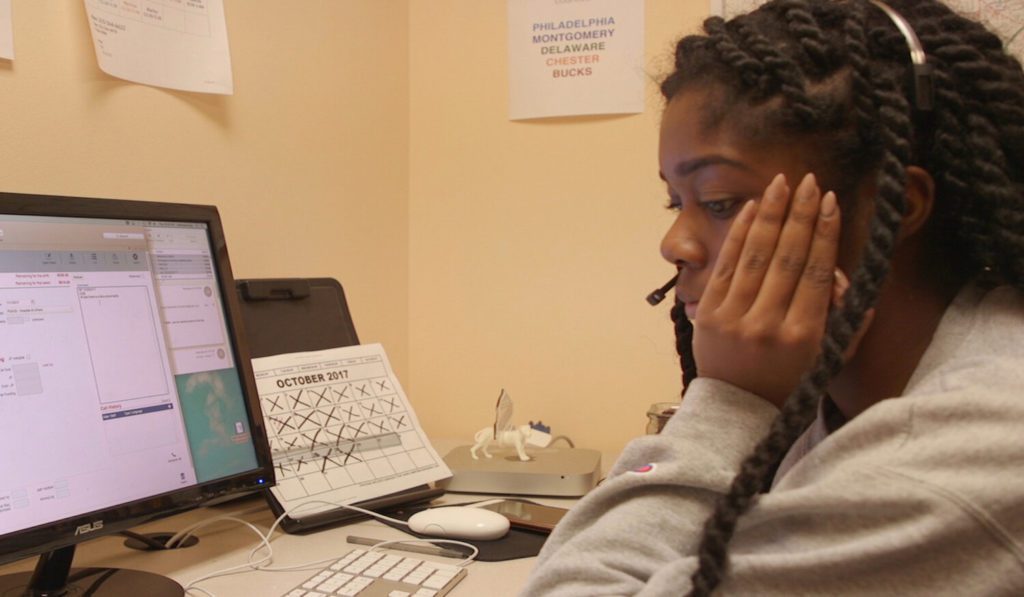 Through this blending of the personal and the political, Abortion Helpline feels both intimate and galvanizing. The documentary illustrates the private circumstances of women who are unable to access healthcare, while simultaneously revealing the cruelty of the lawmaking that creates these situations in the first place. In its thirteen-minute runtime, the documentary poetically captures an unthinkable injustice by allowing viewers to see the intimate exchanges, human-to-human, which take place between "Lisa" and the callers. 
The message of the film aligns closely with Goldwater's personal activism. Her filmmaking journey began as an avenue for getting involved as an advocate for reproductive justice.
"I was volunteering as a photographer for really every reproductive rights organization I could find," she remembers. "It was my way of inserting myself usefully into the movement".
In this role, Goldwater had an opportunity to collect stories about the individuals impacted by illegal abortions and restrictive legislation. Even then, she knew the importance of documenting and sharing these experiences and, after partnering with Attie, found that filmmaking was the natural next step.
Goldwater's practice as a documentarian is thoughtful and deliberate. Centering the voices of those who are actually facing these barriers to reproductive care, she avoids using any voice-of-God narration or talking heads. While these techniques are characteristic of more conventional documentaries, Goldwater was wary of bringing in outside experts to mediate what spectators are seeing on screen.
"It would offer a way to step out of that 'pressure-box' room where the calls are happening," she explains. "But when we let the action speak for itself, it seems to make a stronger emotional impact."
Goldwater and Attie could never have predicted the wide-reaching success of Abortion Helpline, This is Lisa. To the surprise of its creators, the documentary was picked up by multiple high-profile film festivals, from Doc NYC to Sundance. It was also short-listed for Best Documentary Short Subject for the 2021 Oscars.
"When I got a call from Sundance, I called my collaborators, and they insisted that someone was pulling our leg," Goldwater recalls. "Originally, we thought of this as largely a fundraising project, and hoped this would be a movie that would just encourage people to pour money into abortion funds all across the country."
The short not only performed well on this festival circuit, but, more importantly for Goldwater, it proved to be a film with real-world implications. It has been able to engage and influence an educational audience, as well as appeal to those within the reproductive justice movement.
"It's hugely gratifying to know that the film is being shown in colleges and universities to people who haven't necessarily thought a lot about these issues," Goldwater says.
A testament to the film's political significance, Abortion Helpline was also screened by legislators as part of the Democratic Pro-Choice Caucus in the House of Representatives.
Abortion Helpline, This is Lisa is especially resonant today, in the wake of prohibitive state regulations and recent news about the Supreme Court's potential overturning of Roe v. Wade. In a time where reproductive rights feel increasingly precarious, we can find solace in the fact that there are hardworking filmmakers like Goldwater and Attie out there. There are artists creating films of utility, works like Abortion Helpline, which can teach, inspire, and enact real change.For more about Abortion Helpline, This is Lisa, visit abortionhelplinedoc.com. Additional information about the local abortion funds featured in the film can be found at abortionfundpa.org.