Hey folks!
This is a bittersweet moment for us… Cause our time being the Dean's Office Summer Interns has come to a close! We have scheduled blog posts to post every Tuesday and Thursday (along with some Fridays) to hold you all over until you arrive on campus (we know you desperately refresh the blog every Tuesday/Thursday to get that good content!). And we will have a blog post 'Tips For Arriving On Campus' posted at the end of August. However, today is the last day we'll be in the office, managing social media, and answering emails (if you have any questions, you can still email hc-newstudents@haverford.edu). We had so much fun working on this blog and being able to engage with you all on different platforms. We also loved getting the chance to place you in your first year housing; we spent time thinking about these placements and hope that you will find a fun and supportive community in your hall. With that, we'd like to each offer some final words of wisdom to guide you through your first year:
Blien: The beauty of Customs is that we are able to bring together so many students who all have different stories. As a result, you might actually find that you have become close friends with hall-mates who you might have never interacted with if they weren't on your hall. On the flip side, friendship can't be forced… so, you might actually find that your close friends live off your hall. You'll find your people where you find them, and it's okay if that takes time… it's all a process!
Isabel: I know this is a lot easier to said than done, but my advice is not to take your first year of college too seriously. If, by the end of your first year, you've learned some things, had some fun and made some friends, then you are probably doing alright. I stressed the small things my freshman year, and I really didn't need to. Forget a problem set? No problem, that's recoverable! Feeling lonely? That all natural, and you have plenty of time to make buddies. For the most part, mistakes you make in you first year will all come out in the wash.
Naturally, we can't send you on your way without one final GIF, so here you go friends: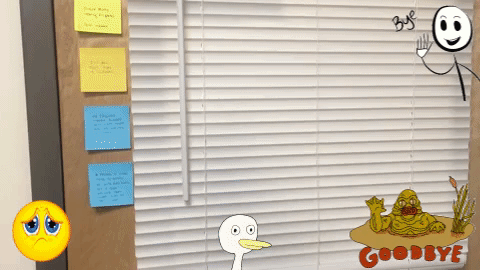 Goodbye, and we'll see ya soon!