Hey everyone! For this post, Isabel and I (Blien) walked around in the threat of rain (no actual rain occurred, but it was humid and the clouds were ominous) just to show you what's here in Ardmore! From convenience to grocery to clothing stores, we have a bit of everything located just a few miles off campus. Here are the places we traveled to:
Isabel and I started our adventure by walking down College Lane (that loooong road by the duck pond) and made our way to, what we like to call the💥LATE NIGHT DOUBLE💥.
Imagine with us….
It's 1am, and you are hungry….or you like need a toothbrush or something. Where could you possibly go at this hour of the night to get your needs met? CVS and Wawa! A winning combo of two 24-hr convenient lifesavers. I (Blien) didn't realize how useful a CVS card would be until this summer! t's no cost to you, but it saves you a couple of cents for each item! #NotSponsored
But that's just a taste of our adventures. To learn more about the wonderous businesses throughout Ardmore, check out this map we created that lays this whole trip out for you! You can really see just how close all of these locations are, and you can also start exploring on your own!
Also, here's a list of local Ardmore businesses and restaurants that offer all Haverford students and employees discounts at local! Thanks to the Ardmore Initiative, all you have to do is look out for a black squirrel sticker in the window of a business and/or restaurant and simply show your Haverford ID at the register! Hopefully, over time, this list will grow!
Naturally, because we went out on the burbs, we had to make some gifs. So, here's us in the Gap, wearing many hats as we do: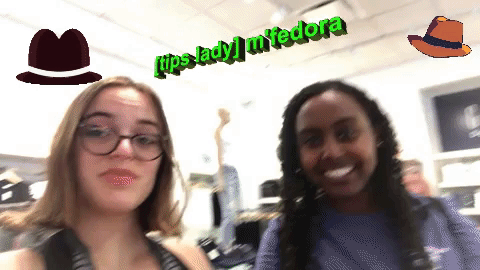 And here's a reminder to treat yourself, like we did at Delice et Chocolat (featured on our map):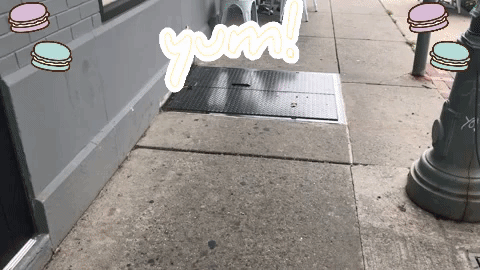 LAST HAVENGER HUNT UPDATE!! Submit all photos by 11:59 pm EST on Wednesday (Aug 1) so we can tally it all up and reveal the winners on Thursday's blog post! 
Your objectives for this (final) week are…
36) Picture of your favorite candy
37) Picture of you hugging a tree
38) Picture of your favorite kitchen appliance (+5 bonus if it's a blender… haha cause my name is Blien..  get it??)
39) This might be time sensitive, but once you have your dorm assignments, send us a picture of you in your dorm colors! (Barclay = Blue, Gummere = Green, and HCA and Tritton = Red)
40) BIIIG BONUS (Appropriately, #40 is worth FORTY POINTS!!!): Build a shrine, make a piece of art, or otherwise show your love in a grandiose fashion for the First Year Dean's Office Interns 
Since you can submit items from previous weeks, we've created a document with a compiled list (which we will update every week!) and the rules of the game. Email us with photos of these things to win sweet 🤑💸 gift cards 💸🤑 to Haverford area hotspots. 
Have any questions? Email Blien and Isabel at hc-newstudents@haverford.edu. Also, follow us on Snapchat @FYsquirrel or on Instagram @hc_studentlifeoffice for fun posts and important updates/reminders!