ATTENTION: The Housing Questionnaire and Housing Accommodations for Students with Disabilities applications are due tomorrow (06/20/2018)! Here's a link to our First Year Website, which has a checklist that links you to pages with all required and optional forms.
NOTE: You can only get access to the Housing Questionnaire after you set up your Student Entry Record. Then after 24 hours and your information is processed, the questionnaire will be visible to you on our Housing Portal under the "Applications" tab at the top of the page. Here's a link to instructions on how to fill out the questionnaire and more information on housing. 
Now, onto your regularly scheduled program…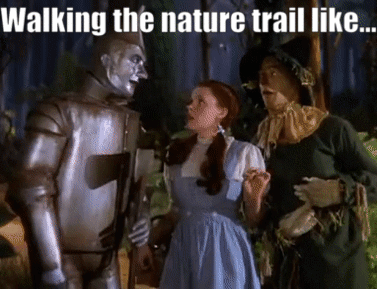 We present to you, 2.2 miles of trees (A.K.A the Haverford College Nature Trail)! Here's a video of us tackling the outdoors… *cue dramatic music*
Warning: Maybe not the best video for those who get motion sickness or those who have difficulty watching shaky videos…
If you want to check out this path on your own, here's the route!
www.haverford.edu/sites/default/files/Office/Arboretum/Haverford-Nature-Trail.pdf
Have a blog post idea? Tell us what it is using this form! We won't mention you in the post, so feel free to ask anything at all. Also, follow us on Snapchat @FYsquirrel for fun snaps and important updates/reminders!