With the end of the semester and finals approaching, now is the perfect time to apply for a summer internship! To help you get started, we've compiled a list of suggestions and resources for all parts of the internship search process. From helping you find an industry you are interested in to interview tips, the CCPA is here to assist you in your internship search!
Take a look at the following Infographic on Making the Most of your Internship Experience:
Download "Making the Most of your Internship Experience"
Before You Apply
Make sure to start the process early! Some organizations have deadlines as early as November, but most of the openings for summer internships will occur between December and March.
If you are applying for grants to support your internship, pay attention to those specific deadlines and required application procedures.
Before searching, consider your goals and ask yourself a few questions. What career fields interest you? What do you hope to gain from your internship? What types of organizations interests you? What locations?
Be sure to contact potential references early! Some internships require references or letters of recommendation as part of the application.
Develop a plan and be proactive in your search. While email announcements or internships posted to Handshake can be great starting points, make sure to use all of your resources. Meet with a career advisor to develop the most effective plan for you!
Look for opportunities in a variety of places! Remember that there are multiple research internships and grants sponsored by Haverford. We also recommend using our Resources by Interest and Online Subscription Sites as a starting point.
Organize your time and materials. Use a Google spreadsheet to keep track of applications, deadlines, materials, and next steps.
The Application Process
Prepare a resume and cover letter. You can have someone from CCPA look over your application materials by scheduling an appointment or by filling out the document review form.
Make sure to apply to multiple internships! Internships can be quite competitive so increase your chances
Review every detail of your application! Remember that any spelling or grammar errors can reflect negatively to an employer. Ask a few people to read over your application materials to check for any errors. This can include: CCPA staff, the Writing Center, or friends and family!
Keep track of your time! Submit all materials (resume, letters of recommendation, etc.) by the application deadline!
Interviewing
Remember that the interview is a way for both you and the employer to see if you are a good fit for the internship. This is your chance to show a more personal (but still professional!) aspect of yourself that cannot be shown in a resume.
Review all internship/program/grant information and application materials before the interview to have these details fresh in your mind. Also make sure to check out the CCPA Interviewing Guide.
Do a practice interview if possible! Mock interviews with a CCPA advisor can be requested by filling out the request form.
Demonstrate seriousness of purpose through appropriate dress, punctuality, and attention to detail in every step of the process.
Always make sure to send a follow-up email after the interview! This is a good opportunity to thank them for their time and further demonstrate your interest in the position.
Advice for Applying to Internship Grant Funding through the College or Other Sources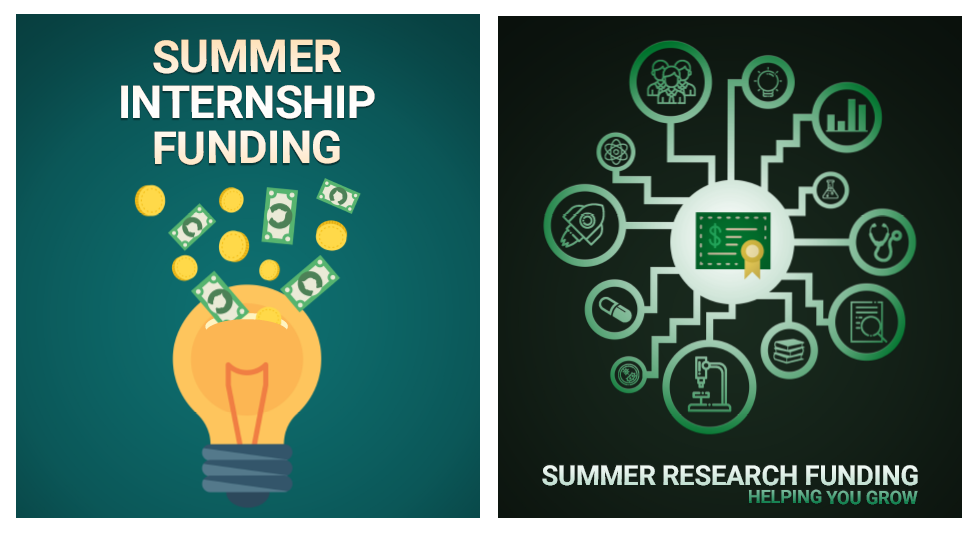 Review the grant application process and determine whether this is a self-designed or partner sponsored internship (does the grant provide funding only, or is an internship part of the program/grant).
Demonstrate knowledge of the grant program and areas of interest clearly in your essays. Show that you've done your research.
Use essays as a way to connect your relevant experiences to the goals of the program. Experiences don't need to be in the same field in order to be relevant so be creative!
Ask a faculty member, dean, the Writing Center, or other appropriate college personnel to read your essay. Make sure to use all of the resources available to you on campus!
Demonstrate a clear connection between your proposed grant and what this program will enable you to do in the future.
Make sure you include all the required pieces of the grant application before the deadline (i.e. resume, essay, references, writing samples, application form, transcript). These will vary for different grants; pay attention to details.
Above all, remember to handle the process one step at a time! All of the different parts of the application on top of additional responsibilities throughout the semester can surely be overwhelming. Remember that you do not have to go through the process alone and make sure to use all of the resources at your disposal!