Given the massive distance and the abundance of worthwhile things to see between the two research sites used by the Monogamous Primates Project, I've opted to take a couple weeks to travel while making my way from Ecuador down to Argentina, rather than just covering the distance in a straight shot.  As of now, I have just finished up a week and a half in the non-Amazonian part of Ecuador, and while that wasn't nearly enough time to give the incredibly diverse country its due, I still got a pretty good taste.
I first spent a week in Quito, taking a Spanish class in the mornings to refresh my knowledge of the language (its been almost three years since I had to use Spanish), and getting to the know the city and the surrounding area in the afternoons and on the weekend.  The class was a good confidence-builder, and my Spanish is definitely functional at this point, but I've still got some progress to make before I can comfortably converse with people.  Traveling here you realize you can actually get away without knowing that much Spanish (I'm confident I know more than the average tourist here), but at the same time if you want a chance at feeling like anything other than a complete gringo who is here to throw money into eager hands of the Ecuadorian tourism industry, you've got to be able to speak with some comfort.  You just can't engage with or get to know a country in the same way when you're not speaking the language with the people that live there, which is something that's constantly on my mind as I struggle to have conversations with the Ecuadorians I run into (or as I avoid the conversations altogether because I know they will be awkward and difficult).  I did stay with a host family so that I'd get more chances to practice Spanish and also get to better know some Ecuadorian people.  I ended up not seeing a whole lot of them, but my they were super nice and my host mom provided me with better food than I ever got in any Ecuadorian restaurant.  Overall I'd say Ecuadorian food is fine but nothing special.  Almost every lunch and dinner starts with soup, of which there are an incredible variety, and then usually follows with a plate of rice, some sort of meat, potatoes, a vegetable, and maybe an egg or some beans.  That standard meal gets a bit old, and the best meals I had were probably a steak I got from an Argentine restaurant and a shrimp ceviche that my host mom made.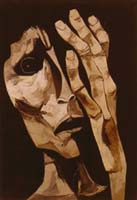 Aside from the Spanish class and generally getting adjusted to staying in a foreign country, I fit a lot of things into my stay in Quito,. I spent an afternoon walking through the historical center of the city, which has some pretty neat architecture and a handful of impressive churches.  I took a tour of an art museum featuring the work of Osvaldo Guayasamin, who is probably the most famous South American artist of the 20th century, and has some fascinating work depicting the struggles and suffering of all of Latin America at the hands of both the Spanish and the militaristic governments so often in power in this part of the world.  I also spent a night out in the Mariscal where Quito's most popular bars and clubs, and took a trip to the equator just outside of Quito which was rather gimmicky but pretty fun, and there I got to see a real shrunken head of both a human and a sloth.  Over the weekend I took a day trip to Otavalo two hours outside of the city, which supposedly has the largest market in all of South America.  I wasn't looking to buy anything but the market was still nice, and afterward I visited this very cool bird refuge where I saw up close a host of falcons, hawks, eagles and a particularly impressive condor.  The next day I visited the nearby town of Mindo, where I went ziplining through the cloud forests and got to watch a butterfly eat banana juice off my fingers.  And on my last day in Quito I took a ride on the teleferico, which is a tram that takes you up to 12,000 feet (Quito is at 9,000) providing a spectacular view of the city from the surrounding hills, and I took a scenic but exhausting hike up toward the pinnacle of a nearby volcano.
It wasn't all that surprising to me that the things I enjoyed most in my first week away from the jungle were the things I did outside of the city, and that trend continued as Ieft Quito and spent a few days hiking in the area of the Quilotoa Circuit.  Starting from the city of Latacunga two hours south of Quito, the Quilotoa Circuit s a 200km road that loops through numerous picturesque indigenous villages dotting the surrounding countryside, and is highlighted by the Quilotoa Crater, an extinct volcano with a massive lake filling the crater.  My first day on the circuit I met up with Jose, a young guy I'd met the night before in Latacunga when asking for directions to a restaurant in town, and together we took a bus to the crater, where I was planning on checking out the lake and then hiking the 5 hours from Quilotoa to Chugsilan, the next town over.  It turned out Jose wasn't much of a hiker, and wanted to head back to Latacunga later that day anyway, so he didn't accompany me for long, but it was
interesting getting to know him nonetheless.  His father, grandfather and he were all artists that carved and painted these really neat wooden masks, some of which we saw being sold in Quilotoa, and I got to hear all about the process of making the masks and trying to sell them.  He talked about how hard it was for his family to make a living off of just the art, which was why he was going to study business at the local university the next fall, so he could figure out better ways to market his family's art.
We had hiked for about an hour around the crater and after he turned around I decided that the scenery walking around the crater was so stunning that I would just keep circumventing the lake rather and save the hike to the next town for the next day.  I definitely made the right choice, as the hike was spectacular the whole way and I got an incredible view of the sunset from the town of Quilotoa.  The town itself wasn't much, just a few hostels and the houses and farms of the locals, and it was freezing cold and windy once the sun went down, but the cold mountain air combined with the sunset and the remoteness of the place made for a very pleasant atmosphere, and I felt very happy to away from the hustle and bustle of Quito.  I spent the evening chatting with a friendly Ecuadorian family (with whom I managed to speak fairly comfortably in Spanish to my relief) as we ate dinner and huddled around a wood stove in our hostel trying to stay warm, and I went to bed that evening feeling like the day had been my best yet in Ecuador.
The great hiking continued the next day, as I met up with a couple other travelers and we navigated the maze of trails taking us from Quilotoa through Chugsilan to the very pleasant little town of Isinlivi.  Though the views weren't as stunning as the day
before, the countryside was still quite pretty as we descended from the crater, hiking through several valleys and getting an interesting taste of what life was like for the indigenous inhabitants of the area.  Most of the locals we saw were quite friendly, but the friendliness often seemed to be present with the intent of getting money from the tourists that pass by, which often times made it feel as if the friendliness wasn't all that genuine.  Twice when we were unsure of our route, locals expected us to give them money in exchange for proper directions, and apparently there used to be signs clearly marking the correct paths, but they had been taken down by people in the area so that people would pay for guides.
The desire to get money off of tourists is understandable, as its so obvious that you as a traveler with your fancy backpack and high-tech camera are so much better off than the people living off the land, but its also frustrating to be viewed as merely a full wallet that people can take advantage of. Even Jose, who did seem genuinely quite friendly, asked for me to pay for his bus ticket, and upon leaving said he hoped I would be able to help his family out in some way.  Obviously tourism is a great way to help bring money into these communities, but deciding what constitutes a genuine service and what is simply people trying to take advantage of you or asking for a handout can be tricky to figure out.  Simply handing out money doesn't really help the communities in any sustainable way either.  I encountered a number of begging children on the hike and was told later that often parents will have their kids stay home from school because they see the begging as more productive for the family.  Clearly not a positive impact of tourism on the community.  And when the desire and need for money is so dominant, it really changes the relationship between the travelers and the locals so that it feels like both parties are merely using each other.
When I asked Jose what the local indigenous people thought about all the tourism, he said they are largely happy about it because they are very proud of their culture and their land, which was nice to hear.  I guess sometimes that pride only seems to come out in a desire for money, but thankfully not always.  One really refreshing interaction I had on the hike was with another local artist who came out of his house as I walked by looking a little lost and took me to a lookout point to show me the way.  He then brought me into his shop and showed me the word carving and painting he did and said that I didn't have to buy anything, he just felt he ought to be hospitable to the people that came by showing them his work and directing them the right way.
Another friendly interaction with the locals was during my exit of the Quilotoa loop, in which the only transportation from the town I was in was the milk truck.  I wasn't exactly sure what to expect, but riding in the milk truck ended up being a thrilling adventure.  Basically the truck winds through the more sparsely populated areas of the region and picks up whatever excess milk the locals' have to sell from their animals, and also serves as a transportation system for anyone needing to go the nearest town.  The ride itself involved about ten of us, half locals and half tourists piling into the back of the truck with the huge milk crates for about 90 minutes of riding in the bitter cold on a very bumpy, curvy and at times scary dirt road that went through some beautiful countryside.  Even though the old Quechua women didn't speak much Spanish, we still had a great time laughing at ourselves getting tossed around by the bumps in the road and freezing to death on the back of that truck.  While I was a bit relieved when the ride was over as we returned to a more urban setting, as I got on a bus headed toward Peru, I was definitely treasuring the taste of rural life and friendly locals I'd gotten in those three days prior.