Hi, my name is Seema and my fellowship placement is at Puentes de Salud (Bridges of Health), which works with the growing Latino population in South Philadelphia by providing healthcare, community building, and educational programming. The educational programming aspect of the organization, the part I am working with, is known as Puentes Hacia el Futuro (Bridges Toward the Future).
During the summer, we hold a summer literacy program for the kids, which follows a bilingual curriculum developed by University of Pennsylvania's Graduate School of Education. The whole program is basically a reading and writing intensive summer camp (don't worry we have fun to!). Each week we have a different theme, read texts with a social justice theme, focus on a different style of writing, and take a field trip to connect what we are learning to what is happening in Philadelphia! Below I've included my top 3 favorite pictures from the summer. If you're interested, I strongly encourage you to check out the blog I made on the Puentes website which has more detail about what we did every week.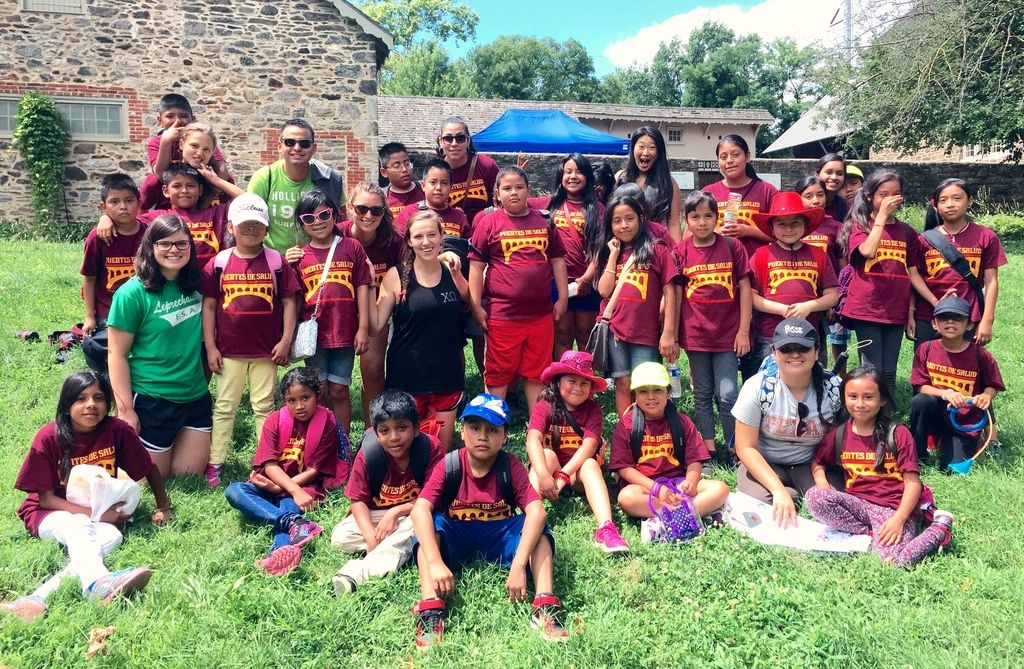 1) This is my favorite picture from the summer because it is our entire group! We have two "teams" – Team 1 is the younger kids (grades 3-4) and Team 2 is the older kids (grades 5-7). We also had 10 tutors this summer. Included in this picture is Alexandra Wolkoff, '14 who was a Haverford House fellow last year and is continuing to work at Puentes this year. A current Haverford student, Raina Fitzpatrick, '18 (upper left hand corner) also worked with us this summer! This picture was taken Week 2 during our field trip to Bartram's Garden. During this trip, the younger group classified insects while the older group learned how to group food, made their own salad from fresh garden food, and got to take home some potted potatoes.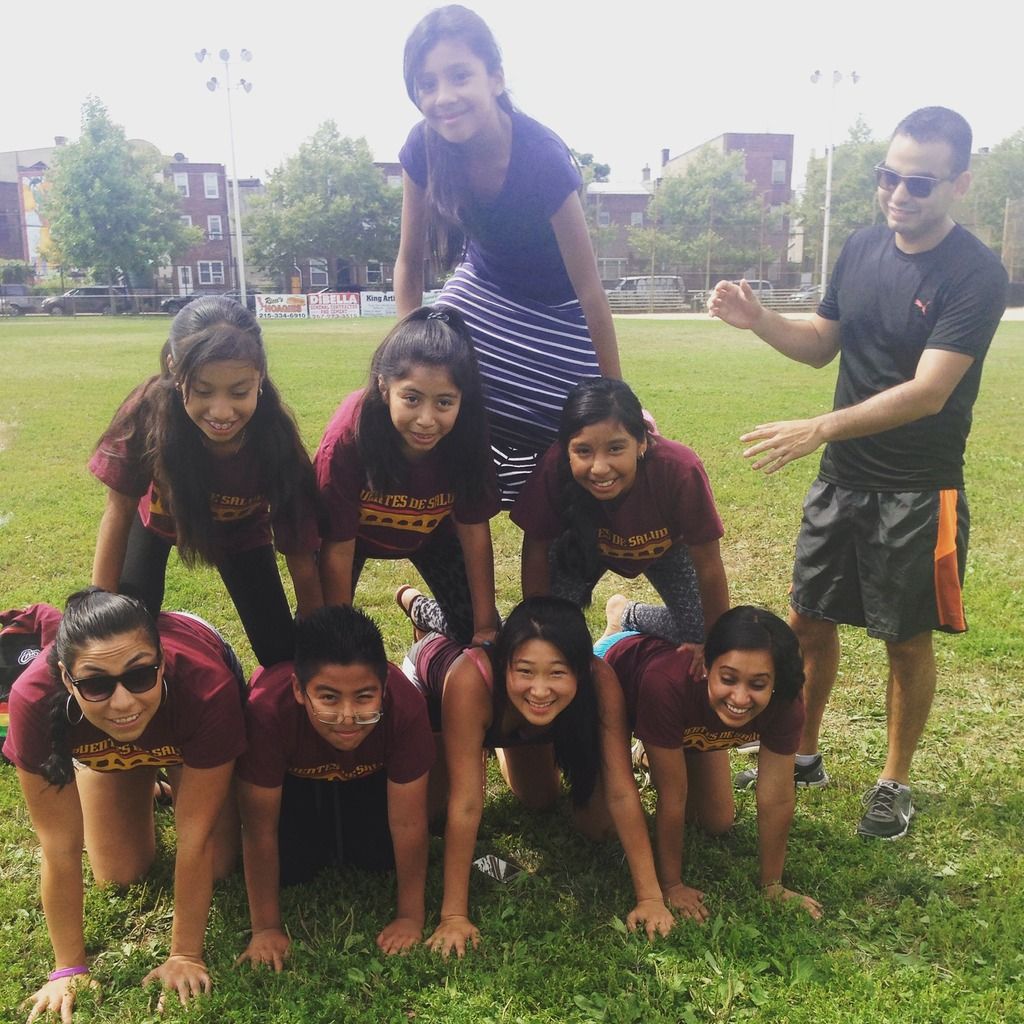 2) This picture was taken one day at recess and reminds me of all the fun we had at recess! In the bottom row (left to right) we have tutor Reyna, Alex, tutor Sehe, and me! In the second row (left to right) we have Beatriz, Stephanie, and Itzel. On the top we have Noemi and then tutor Carlos standing on the side to make sure no one got hurt! During recess, we played soccer, basketball, tag, went on the swings, visited the garden nearby, and on this day, built a human pyramid! Recess was always a great break in the day and even though it was pretty warm outside on most days, it was fun to run around! I also love this picture because it shows most of the tutors from Team 2, the team I worked most closely with. Reyna, Sehe, Carlos, and Karla (not pictured) were all really wonderful to work with.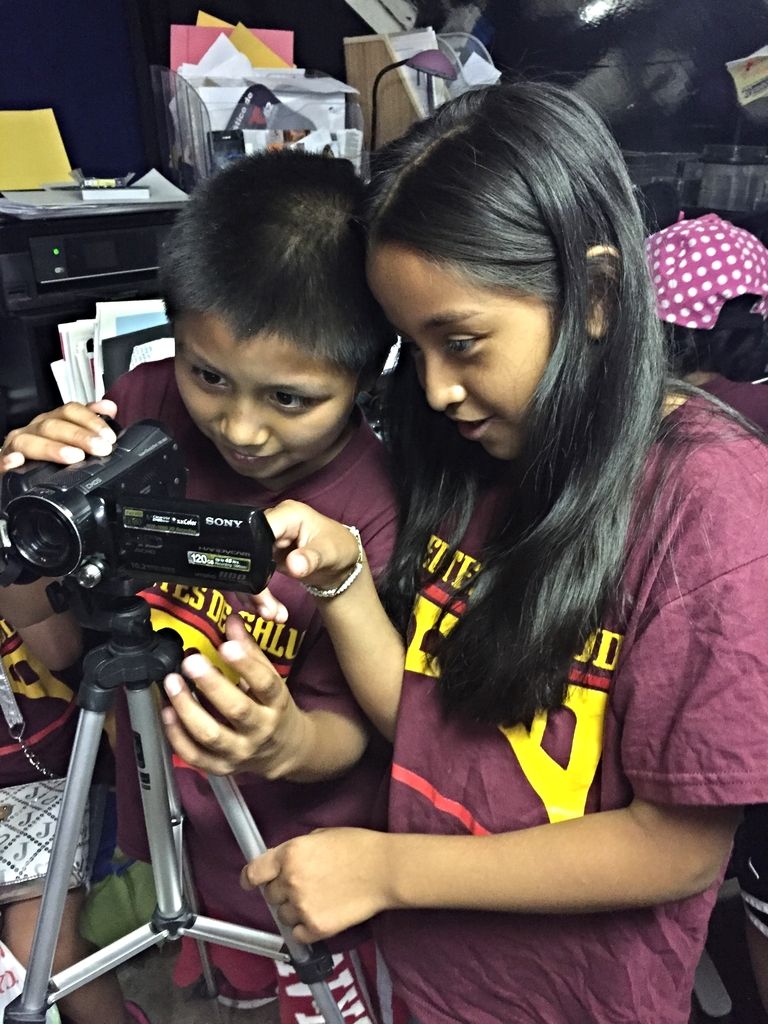 3) We are at Philatinos Radio station here and Juan and Maria are playing around with the camera. This is a radio station started by two Mexican immigrants and it broadcasts Spanish music and talk programming. The audience of the radio station is mainly Mexican immigrants and reaches people in Philadelphia, Queens, Long Island, Miami, and Mexico. Check out this short article about the station!  We visited this radio station for our field trip during Journalism week. During the week we read news articles from Al Dia, The Philadelphia Inquirer, and the New York Times. This field trip was a great way to connect what we were learning to what is happening in Philadelphia. It was also great to see Juan, Maria, and a lot of the other kids get excited about trip! They got to meet a news presenter from Telemundo and also got to host their own radio show that aired on the station.
It was difficult for me to pick my top 3 pictures since we had SO much fun this summer. Don't forget to check out Puentes' summer blog to see more beautiful pictures and learn more about what we did this summer!